Being Disbelieved or Bearing it Alone
What Red Was: A Novel
*Warning: this novel contains content related to rape, self-harm, and sexual assault.
"People so often forget that emotion is physical; English people in particular."
This is one of the many poignant lines that live within Rosie Price's debut novel What Red Was, which tells the story of how a young woman (Kate) makes friends with a young man (Max) in her class at university and shortly after becomes entangled in his wealthy, well-connected family, entering a foreign world of privilege. Then, one night at a party, a traumatic event leaves Kate irreversibly smashed and questioning who she is, what has happened, and whether or not there is anyone she can tell.
---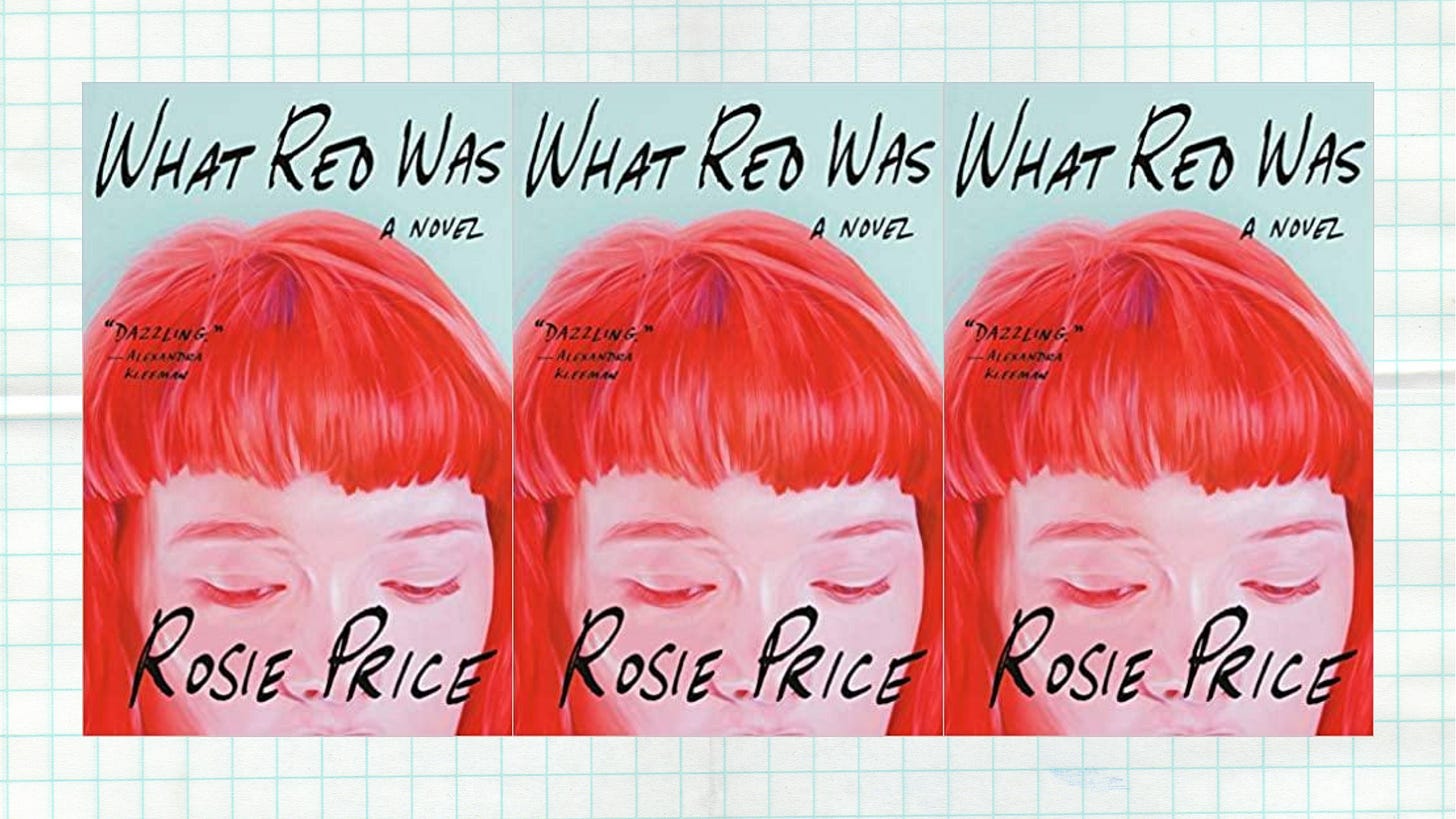 What Red Was. By Rosie Price. Hogarth. 2019. Hardcover.
How did I get the book?
I took a tiny road trip this past weekend to Mystic, Connecticut, and against all better judgment stopped into Bank Square Books, the local bookstore downtown. I told myself I was not going to buy anything, but then I landed in the staff recommendations section and saw this title. I was familiar with the book because of its UK release (I interned at the agency that represented it, Lutyens & Rubinstein), but had never seen the US cover. As soon as I picked it up, I knew it was coming home with me. Isn't it good I don't have this obsession with pets?
You can purchase the book for yourself here and support independent bookstores!
What did I think?
At first, keeping track of the many interconnected characters in this novel (and its roughly six-year timeline) was a bit overwhelming: who is related to who and how, where are they, how many months have passed since the last chapter? But I fell into an understanding rather quickly and became like another participant in the situation. I became extra invested in what was going to happen, which is the best kind of reading experience.
The depiction of character interactions and relationships are also incredibly subtle, taking advantage of a sort of hyperrealism exhibited by many Millennial-written novels (hello, Sally Rooney), though done differently here. Imagine Normal People if Connell and Marianne were just friends, two people who fit platonically into one another's empty spaces, who fall into bed together for comfort and not stimulation. The rendering of this for Kate and Max is breathtaking, most especially in the early moments of the book before the trauma takes place. "She knew how to put him back at ease," we are told of Kate regarding Max, "to make him feel as though whatever disaster might have taken place was instead a minor, passing calamity." He makes her feel something special, too, that oddness of someone being only two meters away from you but still somehow missing them. It is complex, but it comes across just as it would if you were experiencing it in real life. That feels extra special right now when it is hard to experience anything.
Price is not delicate with the material, either, which might sit uncomfortably for some readers. The rawness she uses to attack desire, pain, and processing, however, is something I found refreshing. Stories of sexual trauma often cannot be told with such neat bookends. Sometimes they have to be rendered with a little more spillage onto the page.
Final verdict?
🌟 4.5/5 — Great Plus
I have read a lot of uncomfortable prose that deals with sexual assault and the culture surrounding it, but I have never found a writer who is unafraid to go to the places that those who have been victims of rape inhabit yet rarely speak about: the skewing of the facts for comfort's sake, the cocktail of oddities that arise in the body when getting intimate again, the relief when the secret stops feeling like it has to be one. Price's ability to tackle these in a way that makes the reader uneasy enough to feel as though they are in Kate's shoes yet still there to support her is a special balance. The decision, too, to tackle the story from an omniscient perspective that allows readers into the heads of almost every character also brilliantly portrays a community's genuine reactions to this sort of situation.
The main problem with the novel is its pacing. It is one of the slowest burns I have experienced in quite some time, and it isn't even particularly long (316 pages). I sometimes found myself questioning why Price dwelled in days of the characters' lives that did not feel like they offered much toward the "problem" of the book. However, upon finishing, part of the point of talking about trauma is that every day can unexpectantly offer some kind of reminder of what has happened. It is a slow process of healing. In many ways, then, the burn feels necessary.
Beyond the book.
Rosie Price read at Cambridge then worked at a literary agency before becoming a full-time novelist, so she knows a few things about what makes for a solid debut. She talks a little bit about that experience and how it led to her writing her own book in an interview with the Cambridge alumni blog. Her personal connection to the material is really powerful (and how quickly she received agent representation is rather intimidating 😬).
For the stateside release of the book, Price did a series of short videos talking about her writing process and what she was reading. This one has her discussing her favorite character in the novel.
See you again soon!
Rachel x
---
Connect: